How It Works
4 Easy Steps to Get Cash for Your Home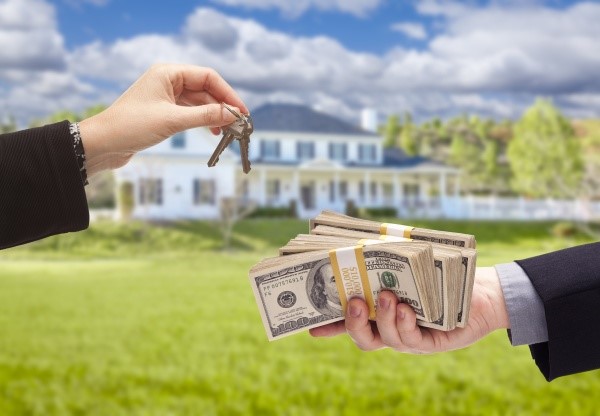 At Terra Home Solutions, we know how difficult, expensive, stressful, and time-consuming selling a house through traditional realty avenues can be. We're here to offer something different. 
When you work with our team to sell your house fast, we guide you through every step in our process with integrity, transparency, and respect. Our home-buying process is as straightforward and streamlined as possible to ensure we're able to buy your Houston house and close on the sale as quickly as possible. Here's how it works:
Step 1: Contact Us with the House You Need to Sell
Fill out our contact form to provide us with few preliminary details about the house you want to sell. You'll also need to enter your personal contact information so we can reach out with further details about moving forward with the process. If you prefer, you can also call our office to discuss the property you'd like to sell.
When we receive your information, we'll reach out to you to schedule a walkthrough of your property. When you send us your information or call us during normal business hours, we do our best to get back to you within an hour. Our fast turnaround allows us to move forward with the home-buying process as quickly as possible.
Step 2: Schedule a Walkthrough
To provide you with a fair cash offer, we need to take a look at your house to determine what kind of condition it's in. When we reach out to discuss your Houston area property, we'll find a convenient time to schedule a walkthrough of your home and then meet with you on the date and time you select.
When we arrive at your house, we'll perform a quick tour of the property to see whether it requires any work and to evaluate other factors that affect its overall value. We'll consider the layout of the home, square footage, condition of the surrounding property, the value of other homes in your neighborhood, and several other factors to arrive at our fair cash offer.
Step 3: Receive a Cash Offer for your Home
Once we've gathered all the details necessary to finalize our fair cash offer, we'll present it for your consideration. At this point, it's up to you to accept or decline the offer. There's no obligation to accept, and we'll never pressure you to move forward with the sale.
Keep in mind that the offer we extend is for your home in as-is condition. If your house needs repairs or is severely outdated, those factors will affect the offer we're able to extend. Our offer reflects the exact amount of cash we're ready to offer you for your home. You won't pay any fees whatsoever to get the price we offer you.
Step 4: Sell Immediately or Whenever You're Ready
When you need to sell your Houston house quickly, a fast turnaround is critical. If you decide you like our offer and choose to sell us your house, we can move forward immediately and get you your cash as quickly as possible.
We'll schedule a time to meet at a local title office to sign the closing paperwork and transfer ownership of the house. We'll go over the contract with you in detail, and if you have any questions or concerns about the closing process, we're more than happy to answer them.
Once we finalize the closing paperwork, we'll give you your cash, and you can move on with your life!
Once we close on the house, you don't need to move out right away if doing so is not in your best interest. We can work with you to determine a move-out date that suits your needs. Just let us know your situation, and we'll do our best to accommodate it.
If you need some time to consider our offer, feel free to take it! We understand selling a house is a big decision, and we want you to be completely sure you're making the right choice. We won't pressure you to accept the offer, and if you decide it doesn't meet your needs, you're free to walk away with zero repercussions.
If you need to sell your house fast in Houston or the surrounding areas, our team at Terra Home Solutions is more than happy to help! Fill out our contact form, or give us a call today to find out what we can offer you for your Houston home!